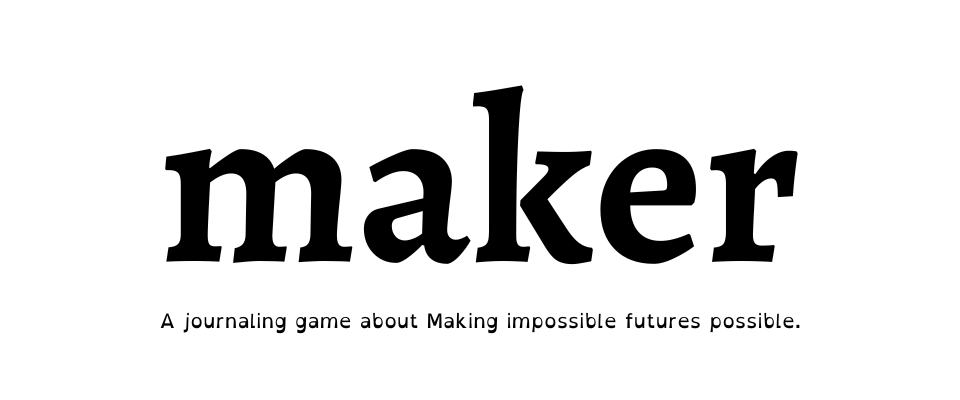 Maker
A downloadable Book of the Maker
Maker is a journaling RPG about hope. It came to me as I read "Write to the Future", an essay by Georgina Escobar about imagining impossible futures, and by imagining them making them possible.
Making impossible futures possible.
As I mentioned, I have been thinking a lot about hope as of late, especially as things only get worse in my country, and as I am sick myself.
That word, "make" kinda hit me in an odd way and it reminded me of the song Maker, by Anjimile. Then I thought of how by imagining an impossible future, you make it possible. And by doing so, you yourself are a Maker.
So every day as I imagine myself embarrassing my now 2-year-old kid to their peers in teenagehood, telling them stories about making me get up in the middle of the night to prepare a bottle of milk, or running around the house after a naked baby trying to escape the shower, I realize I feel hope.
And I hope that by imagining this not-at-all-impossible future, I am a Maker and that by imagining any future at all, it is Made.
Think about the past, and how you changed from it. Write it down and it is Made.

Think about the now, and how it doesn't care about what passed or hope for what comes. Write it down and it is Made.
Finally, imagine the future, and as you imagine, it becomes possible. Write it down and it is made.
Take this game and be a Maker.

Download
Click download now to get access to the following files:
maker-ver-2023-04-26.pdf
1 MB
Community Copies and Contribution Accessibility
Support this Book of the Maker at or above a special price point to receive something exclusive.
Free Community Copies
community copies are available for free for people from the Global South, and/or the LGBTQIA+ and BIMPoC communities who cannot afford any contribution due to issues such as a currency or financial vulnerability.
there will always be community copies available (if by any chance I forget to renew the pool, drop a comment).
if you have taken a community copy from the pool, consider taking a moment to leave a helpful review, feedback about the game, or a 5-star rating to help boost the game's visibility.
Tem Pix?
if you can contribute something, from 1 cent to a million bucks, but you are paywalled by not having a credit card, access to PayPal, or because of currency exchange, you can leave me a direct contribution through PIX using this key:
bf860ba8-29be-4bc3-9628-04bd5ab773e6
or the QR Code below: