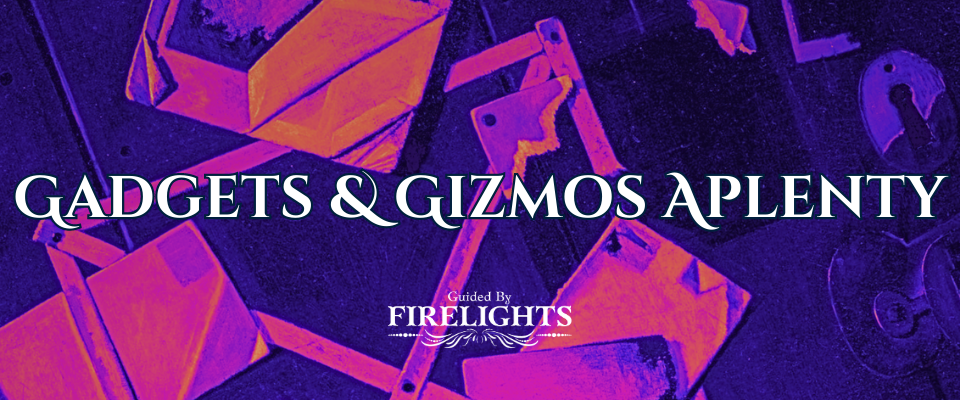 Gadgets and Gizmos Aplenty
A downloadable coming-of-age journey
You come from the depths and you chose to fulfill your Giramundo, your coming-of-age journey, on the Surface, in spite of all advice and mockery against it. Upon reaching the world of the humans, you found out that they had all but vanished leaving no trace of their departure or disappearance. The empty shell of their civilizations remain.

The Giramundo is a journey of learning and becoming where you give substance to the lessons you've learned through the keepsakes, trinkets, tidbits, gadgets, and gizmos you gather as your Hoard.
Gadgets and Gizmos Aplenty is a solo game about undertaking a coming-of-age journey through the ruins of humanity Guided by Firelights.

You are an inhabitant of the Depths who undertakes a coming-of-age ritual journey in the Surface, the world of humans. Thing is, all humans are gone and their civilizations are all but deserted. Gather keepsakes and assign lessons to them as you grow and make observations on the hubris of the people who occupied these ruins.

Gadgets and Gizmos Aplenty is an idea Chris, my partner, came up with when we were discussing what to do for the Solarpunk Jam and the Applied Hope Jam.
It took me about a year until I had the actual emotional, cognitive, and creative energy to put this together and I must thank Firelights for it.
I hope you enjoy it!

Purchase
In order to download this coming-of-age journey you must purchase it at or above the minimum price of $5 USD. You will get access to the following files:
Gadgets and Gizmos Aplenty - Markdown
10 kB
Community Access - Latin America
Support this coming-of-age journey at or above a special price point to receive something exclusive.
Sou BR e o dólar é caro pra p*** - R$ 10
For the Latin American community only.
O dólar tá caro e PayPal é uma droga, então você pode fazer um pix com a chave ou QR code abaixo.
A sugestão é um valor simbólico de R$ 10. Pode ser mais, ou menos - o que tiver dá!
Si eres de Latinoamérica pero no eres de Brasil, y también te sale caro el dólar, tomate uno de estos.
chave: bf860ba8-29be-4bc3-9628-04bd5ab773e6
QR Code: