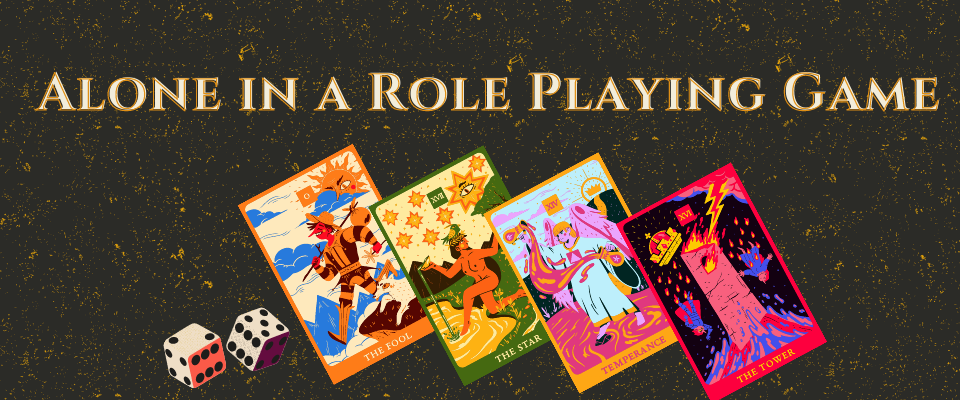 Alone in a Role Playing Game
Alone in a Role Playing Game is a hack of Takuma Okada's Alone Among the Stars.
It is a GM-agnostic tool for solo or group play, designed to create scenes and backdrops for character shenanigans using only a Tarot deck and a six-sided die.
What do I need to use this tool?
You just need a Tarot deck and a six-sided die (d6).
If you don't have a tarot deck handy, you can quite easily use an online tarot tool (just search for "tarot reading" on your search engine), or you can check the Typho's Games' Revolutión page, where they have included assets and instructions on how to set up a tarot deck on PlayingCards.io.
Community Access
If you are a member of the LatAm community living in Brazil, you can use the PIX code below to buy the game in R$, or just to get it for free.
Otherwise, the DEMO section has a link to the GitHub repository where you can access the online version of the game for free.
Purchase
In order to download this game you must purchase it at or above the minimum price of $5 USD. You will get access to the following files:
Alone-in-a-Role-Playing-Game.pdf
301 kB
Alone-in-a-Role-Playing-Game-light-background.pdf
292 kB
Community Access
Support this game at or above a special price point to receive something exclusive.
Sou BR e o dólar é caro pra p*** - R$ 10
For the LatAm community, especially those living in Brazil.
O dólar tá caro e PayPal é uma droga, então você pode fazer um pix com a chave ou QR code abaixo.
A sugestão é um valor simbólico de R$ 10. Pode ser mais, ou menos - o que tiver dá!
chave: bf860ba8-29be-4bc3-9628-04bd5ab773e6
QR Code: